Index
Disclosure
This is my reading journal and commonplace book. I am a passionate reader, not a professional reviewer. My blog posts are mostly efforts of affection: writing about books is my personal way of learning how to read them.
This, as you may have noticed, is a personal and non-commercial blog. The texts and videos published here are not sponsored, and I earn nothing from my blog. All opinions and ideas are my own. All books reviewed here were purchased by me, gifted to me by friends and family, or borrowed from the public library, unless otherwise noted.  In case I accept a book for free in exchange for writing about it, I will disclose that in the post. 
You will hardly ever find entirely negative reviews on my blog, because I don't finish books that fail to engage me. And I prefer to bring grace and intuition to a book, rather than bile. Without sympathy, intuition, and grace, nothing worth reading can truly be read.
This blog is hosted by WordPress.com on a free plan (read their Privacy Policy and their Terms and Conditions). I pay nothing for it and receive nothing for it. Furthermore, this blog does not use Google Analytics nor Google AdSense. You might sometimes see ads on this blog, because, as I said, it is hosted on WordPress.com on their free plan. They run ads on free sites to help them cover their costs, and they say these ads are run sparingly in an attempt to interfere as little as possible with the experience of reading a site. You can read more about their policy here. I earn nothing from those ads.
I am responsible for customizing the blog's template, as well as for writing and editing the texts published here. As to my personal standpoint and biases, I will try to declare them where I think it's relevant. My views, as expressed on this blog, are not representative of any political party or religious organization. I am available on Twitter, Goodreads, and via blog comments for anyone who has questions or concerns about my editorial policy or unstated biases.
I started blogging in the early 2000's, and moved to WordPress in 2007. Many of my earlier posts on this blog are private now, and I cringe at some of my old reviews. People coming across this blog should be reminded that the opinions I held at some point in my life are not necessarily my opinions now. When you read an older post of mine, keep that in mind.
If you are a publisher, literary agent or author, thank you for reading my blog and considering it for your reviewing needs. Please read my review policy below, before contacting me.  After reading my guidelines, if you feel that I might enjoy your book, complete the review request form below, and send me a press release.  I'll take a look and let you know if I'm interested.
Mostly due to time constraints, I do not accept unsolicited review requests. Please bear in mind that
I do not review self-published work,
I do not accept unsolicited books for review,
I do not accept money in exchange for a review or a post,
I do not finish bad books nor books that fail to engage me,
I do not guarantee a positive review, and
I do not participate in blog tours.
Thank you for your understanding.
Please bear in mind that, when I review a book, I'm not giving shopping advice: I'm trying to explain how I think the book works or not, and what is interesting or not about it. In the same vein, when I read a review, I'm not looking for endless recommendations, but for a good discussion. 'Like/don't like' are not the only criteria at use when reviewing a book or thinking about literature.
In the biography Hannah Arendt: For Love of the World (1982), Elisabeth Young-Bruehl wrote that Arendt gave a clear message to editors who asked for reviews and articles about books she was not interested in: "I have a funny rule never to review a book I do not respect." This is my golden rule, too.
My reading life
Most of my reading comes from my local library, public domain eBooks, or books I purchase. As you may expect, my blog reflects my research interests and personal taste. I am not particularly interested in hyped books – and, alas, great books do not usually come flocking to us through a social media buzz of benign posts and pretty pictures that fit a particular pattern. Sorry if I am being too candid about it.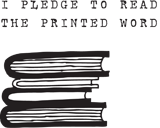 I enjoy reading as diversely as I can, in terms of the author's gender and country of origin. I am always looking for things that may surprise me. I have a particular interest in reading female authors, poetry and queer fiction. Here you can find out more about my current reading projects. Here are some of my  favourite books (more favourites here). Please note: I am not a professional reviewer: I am a passionate reader. This blog is all about sharing this love.
My Review Policy
Reading is an important part of my life: I try to read as widely as I can, not only out of curiosity, but mostly out of fear that I might be missing something really good. I prefer to read at my own whim, and I do not actively seek books for review. However, I am always happy to consider reading books written by women or by queer authors, as well as books published by small and independent publishing houses or by university presses. Below you can find my guidelines and review policy, as well as information about my reading habits.
My primary area of interest is literary fiction, although my blog seeks to cover a broad spectrum of books, including works of non-fiction, biographies, poetry collections, drama, philosophy books, classics, and works of literary criticism.
I repeat: when I review a book, I'm not giving shopping advice.
I try to maintain a certain integrity on this site, for whatever that is worth, and I advocate for freedom in blogging: I blog however I like, read whatever I want, whenever I want, and I receive nothing for it. This blog is written by me and it is for me: there's no worrying on my part about boring an audience, because the audience is me. And I subscribe to "The Reader's Bill of Rights":
---
Guidelines
I do not review self-published work;
I do not review books that fail to engage me. I may provide you with the reasons why a particular book didn't work for me, but I won't write a full review about it. That's something to keep in mind: I do not guarantee I will review your book;
I do not accept unsolicited books for review;

I

do not accept

a book for review unless it meets at least

two of the conditions

listed below:

it is published by a small, independent publishing house or by a university press;
it belongs to a literary genre I enjoy reading, or deals with a topic that interests me;
it's a book in translation;
the author is non-white;
the author is a woman;
the author is queer;
the author is one of my favourites (more favourites here).

I reserve the right to express my opinions – good or bad – in my reviews. I  will not guarantee a positive review of a book just because I was sent a copy for review. However, I'll try to give you constructive criticism;
I strive to be fair and honest in my reviews, regardless of how I overall felt about the book, and I try to identify both its strengths and weaknesses;
I use my personally developed review and rating system for all books, whether they are review requests or not. This means you are going to get my honest opinion of the book: by sending me a copy of the book for review, you agree to allow my honest review to be posted publicly to this blog, without constraints or repercussion;
I will never accept compensation in monetary form;
I prefer ebook review copies.
If, after reading the above information and guidelines, you feel that I may enjoy your book, complete the review request form below, and send me a press release.  I'll take a look and let you know if I'm interested. 🙂
Please note that I get an overwhelming amount of email and I will not respond messages that do not take my guidelines into account. If I receive a review request for a book that doesn't match my guidelines, I will ignore it. If you don't hear from me in 7 days, please assume that your message doesn't match my guidelines, and that I've ignored it. If nonetheless you persist in sending me requests that don't match my conditions, your messages will be labeled as SPAM, and they will be automatically deleted. If I don't respond to your messages or emails, your email address may have been labeled as SPAM and thus blacklisted. I adopt such a strict policy because I had too many problems with random people who know no boundaries when they are online (including one crazy guy who, not having received any response to his persistent emails, started to think  that I was sending him hidden messages through my book reviews. Creepy guy, to say the least).
My rating system
Book ratings:
★☆☆☆☆ 1 star – weak (0 to 7 points) – I regret ever having read this book and ask myself why I finished reading it.
★★☆☆☆ 2 stars – regular (8 to 12 points) – There were some major flaws in the book, as well as some good aspects.
★★★☆☆ 3 stars – good (13 to 18 points) – A good read, strong in some areas, average in others.
★★★★☆ 4 stars – very good (19 to 26 points) – Strong book.
★★★★★ 5 stars – mindblowing (27 or more points) – A book that was transformative for me. I will reread this book!
Criteria
Impact – 0-3 points
Innovation – 0-3 points
Pace – 0-3 points
Plot (when applicable) – 0-3 points
Characters (when applicable) – 0-3 points
Writing – 0-3 points
Insightfulness – 0-3 points
Enjoyment – 0-3 points
How much did the book affect me? – 0-10 points
My rating system is very personal: it is closely related to my particular experience of reading the book I am evaluating. I also take into consideration whether the book fulfilled or not what the author had initially proposed to. My ratings are given in relative terms: I only take into account the comparison between books within the same genre. I do not compare books that belong to different genres. My system is also subjected to my tastes: it's more a rating of my experience as I was reading the book. The criteria may change over time, and ratings may change when I reread a book. My rating system changes as I change. And yes, I know, you don't have to enlighten me about it: the reading experience can never be reduced to numbers, it can never be translated to a scale. But there are some interesting things you learn about yourself when you try to do it.
Copyright policy
The material published here is in conformation with fair use: criticism and comment, research and scholarship, and other educational uses. All images are credited: just hover on the picture to see the name of the author. I do my best to locate the creators of all artwork used on this site, but sometimes I cannot find any information about the image's authorship. Images whose authorship I cannot find out after research are tagged as "unknown Author". If you by chance know the authorship of any of the images so tagged, please let me know. If one of your images appears uncredited in one of my posts, please get in touch with me and I will gladly add your credit, or remove the image, according to your choice.
All artworks posted here are the property of their respective copyright owners. Any works posted against the wishes of the copyright owner will be removed asap upon request. You can contact me on Twitter, Goodreads, Instagram, Facebook, and via comments on this blog.
The remaining images are my own. In this case, if the image contains pictures of people, you may not copy or reproduce them without my prior written permission. In the remaining cases (ie buttons for literary projects and challenges), the picture may be reproduced, provided that they are properly credited.
Unless otherwise attributed, all written material, home videos and personal photographs published on this website are © The Blank Garden. Unauthorized use of this material is strictly prohibited. This work may not be republished without express and written permission from this blog's author and/or owner. Excerpts and links may be reproduced only by authorization of the author and for non commercial use, provided that full and clear credit is given to The Blank Garden, with appropriate and specific direction to the original content. Permissions beyond the scope of this license may only be available by contacting the author. To do so, please visit the contact page. Under no circumstances can permissions for commercial purposes be provided. This work may never be used or reproduced for commercial purposes or in any manner that is primarily intended for or directed toward commercial advantage or private monetary compensation. Read more on my Impressum.
A special note to students: if you quote from this site, please cite it properly. Judging by traffic statistics, your teachers are not stupid.
Please do not use my words, videos or personal photos without attribution. Thank you.
This blog quotes from books, journals and newspapers with 'fair use' in mind, and always references authors and sources. If you are an author, publisher, artist, or agent representing material reproduced on this website, and you do not wish for it to be used, please let me know and I shall remove all material and associated links.
Comments and Readership Engagement
First and foremost, I would like to thank you all for taking the time to comment on my blog.
I do try to promote book discussions by replying to your comment here or by visiting your blog. Nonetheless, I do hold comments for moderation, in order to ensure an as orderly debate as possible. Everyone can express their opinion here, as long as they are polite with each other. I welcome your differences of opinion, and I do strive to keep this a civil and comfortable place for all of you. Feel free to explain why you disagree with me, but I do not allow personal attacks on myself or other commentators. I do not edit or delete comments unless they are abusive, hateful or clearly spam. Obscene language will be removed from your post. As a moderator, I reserve the right to use my judgment when it comes to approving comments.
Smart, insightful comments are always welcome, as are critical ones expressed with intelligence, good manners and wit. Rude, abusive and disrespectful comments are not. Automated and anonymous messages will not be published, nor will messages promoting commercial services or products. Spirited debate and lively conversation are always welcome, but, to remain on cordial terms, please refrain from:
Bigotry of any kind
Personal attacks
Baiting others into hostilities
Trolling
Spam
Blatant self-promotion
Thank you in advance for your cooperation!
Privacy Policy
WordPress commenting system asks for your email address when you comment. This helps them to distinguish spambots from real people. WordPress also collects email data when a reader requests to receive my blog posts via email. This data is collected on an opt-in only basis: readers opt in to read my blog posts via email and I am unable to opt anyone in on their behalf. Data on WordPress email subscribers is kept only within WordPress.com's system and I do not download or otherwise access it. I am advised that WordPress will be issuing GDPR compliance statements themselves and readers will be able to access this via WordPress.com. Regarding blog post email alerts, if a reader wants to remove data, there is an unsubscribe link at the bottom of each email received, allowing the reader to unsubscribe at any point.
Personal information such as email addresses, last names and mailing addresses collected for email subscriptions or comments are never sold or disseminated to a third party. This information will only be used for the purpose for which it was supplied. Read more on my Impressum.
This blog does not use Google Analytics nor Google AdSense.
Cookie Information
Sites hosted on WordPress.com make use of cookies for a variety of different purposes. Some cookies are only set for registered WordPress.com users, whereas others are set for all visitors. Wordpress claims they aim to collect the minimal amount of data necessary to provide their services. For more detailed information, see their dedicated Cookie Policy page and Privacy Policy.
Terms of use for templates and files
Templates, files, and printables are provided on this blog for personal use only and may not be resold as a whole or in part in any way. You may not claim them as your own, use them for commercial use, sell, share, or distribute them as they are, in any way, either digitally or physically. Please do not share them without attribution.
Impressum
This is my private, non-commercial, personal blog.
Contact
You can PM or tweet me, comment on this blog, on Goodreads, LibraryThing, or Instagram. You can also reach me at theblankgarden [at] gmail [dot] com
Liability for content
The contents of my blog are created with great care. However, I cannot assume any liability for the accuracy, completeness and timeliness of the content. I am responsible for my contents according to the general laws. I am not obliged to monitor transmitted or stored external information or to investigate circumstances that indicate illegal activity. Obligations to remove or block the use of information under general law remain unaffected. A liability in this regard, however, is only possible from the date of knowledge of a specific infringement. Upon notification of appropriate violations, I will remove this content immediately.
Liability for links
My blog contains links to external blogs and websites of third parties on whose contents I have no influence. Therefore, I cannot assume any liability for these external contents. The respective provider or operator of the external blogs and pages is always responsible for the contents of the linked pages. The linked pages were checked for possible legal violations at the time of linking. Illegal content was not recognizable at the time of linking. However, a permanent content control of the linked pages is not reasonable without concrete evidence of an infringement. Upon notification of violations, we will remove such links immediately.
Copyright
The content created by me on my blog is subject to copyright law. The reproduction, processing, distribution and any kind of exploitation outside the limits of copyright require the written consent of the respective author or creator. Downloads and copies of this site are for private, non-commercial use only. As far as the contents on this side were not created by the operator, the copyrights of third parties are considered. In particular, contents of third parties are marked as such. If you should still be aware of a copyright infringement, I ask you to please let me know. Upon notification of violations, I will remove such content immediately.
Data protection
You can access my blog without providing any personal information. As far as personal data (for example name or eMail address) is asked on the blog (for example, for commenting), this takes place, as far as possible, always on a voluntary basis. These data will not be disclosed to third parties without your explicit consent (see also Privacy Policy above). Please note that data transmission over the Internet (for example, when communicating via e-mail) may have security vulnerabilities. A complete protection of the data from access by third parties is not possible. The use of contact data published in the context of the imprint obligation by third parties for sending unsolicited advertising and information materials is hereby expressly excluded. The operators of the pages expressly reserve the right to take legal action in the event of the unsolicited sending of advertising information, such as spam e-mails.
Privacy Policy for the use of Twitter
Functions of the Twitter service are integrated on my blog. These functions are provided by Twitter Inc., Twitter, Inc. 1355 Market St, Suite 900, San Francisco, CA 94103, USA. By using Twitter and the "Re-Tweet" function, the websites you visit are linked to your Twitter account and shared with other users. This data is also transmitted to Twitter. As the provider of my blog, I have no access to the content of the transmitted data and their use by Twitter. For more information, see the Twitter Privacy Policy. You can change your privacy settings on Twitter in your Account Settings.
Privacy Policy for the use of Facebook plug-ins (Like-Button)
Plugins of the social network Facebook (Facebook Inc., 1601 Willow Road, Menlo Park, California, 94025, USA) are integrated on my blog. The Facebook plugins can be recognized by the Facebook logo or the "Like-Button" ("Like"). An overview of the Facebook plugins can be found here. When you visit my blog, the plugin establishes a direct connection between your browser and the Facebook server. Facebook receives the information that you have visited with your IP address. If you click on the Facebook "Like-Button" while you are logged into your Facebook account, you can link the contents of my blog's posts or pages to your Facebook profile. As a result, Facebook can assign the visit to my blog  to your user account. As the provider of the blog, I have no access to the content of the data transmitted and their use by Facebook. Further information can be found in the Facebook Privacy Policy. If you do not wish Facebook to associate your visit to my blog with your Facebook user account, please log out of your Facebook user account.
Privacy Policy for the use of Tumblr
Functions of the Tumblr service are integrated on my blog. These functions are provided by Tumblr Inc., 35 E 21st Street, Ground Floor, New York City, 10010, USA. By using Tumblr and the "Tumblr" function, the websites you visit are transmitted to Tumblr. As the provider of my blog, I have no access to the content of the transmitted data and their use by Tumblr. For more information, see the Tumblr Privacy Policy.
Privacy Policy for the use of Google+
Functions of the Google+ service are integrated on my blog. These functions are provided by Google Inc., 1600 Amphitheatre Parkway Mountain View, CA 94043, USA. By using Google+ and the "Google+" function, the websites you visit are transmitted to Google+. As the provider of my blog, I have no access to the content of the transmitted data and their use by Google+. For more information, see the Google Privacy Policy.
The hosting by WordPress.com
This blog is hosted by WordPress.com on a free plan (read their Privacy Policy and their Terms and Conditions). Furthermore, this blog does not use Google Analytics nor Google AdSense. You might sometimes see ads on this blog, because, as I said, it is hosted on WordPress.com on their free plan. They run ads on free sites to help cover costs, and they say these ads are run sparingly in an attempt to interfere as little as possible with the experience of reading a site. You can read more about their policy here. I earn nothing with those ads.
Please contact me if you have any questions or problems with my blog
If the content or presentation of my blog violates third-party rights or statutory provisions, I would like to receive a corresponding message. I will immediately delete the corresponding graphics, images, documents, videos and texts if they are rightly objected to.
Legal validity of this disclaimer
This disclaimer is to be regarded as part of the internet offer from which this blog was referenced. If sections or individual terms of this statement are not legal or correct, the content or validity of the other parts remain uninfluenced by this fact.
Source reference: Disclaimer of eRecht24, the portal to Internet law by lawyer Sören Siebert.
---
The [blank] garden along the years
---
Thank you for dropping by my blank garden 🙂